2016 Grants from the Community Foundation of Tompkins County's Library Grant Cycle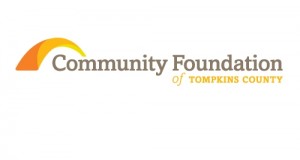 Congratulations to the 2016 Community Foundation of Tompkins County Library Grant recipients!
$136,315 was granted to 21 of our 33 member libraries from the Bernard Carl and Shirley Rosen Fund and the Myrtle Dee Nash Memorial Fund.
 The award ceremony was part of the Finger Lakes Library System's 2016 Annual Summer Reading Meeting. Program Officer of the Community Foundation, Janet Cotraccia, introduced each recipient as they received their award from Community Foundation CEO, George Ferrari. Each recipient then had the opportunity to  share their project with the 58 library staff members in attendance. Time was given at the end of the meeting for library staff to connect with each other, form partnerships and brainstorm future collaborative projects.
Janet had the following to say in reflection from Thursday's meeting:
"As always, the grant awards were informative and enlightening.  It is truly inspirational to hear about the amazing work that they are all doing in their respective communities.   It is so exciting to see how the vision of Bernard Carl and Shirley Rosen continues to foster a love of learning and reading in youth as well as to support youth access to libraries.  We have also seen the collaboration between libraries and other community stakeholders result in stronger and more effective programming."
"With the Library Grant Cycle, we have seen the development of preschool storytimes in communities where there were none.  We've seen summer reading participation soar as a result of the engagement of vibrant entertainment at summer reading events and the use of free books as incentives to reaching reading goals.  We've seen children of all ages read more as the result of meeting beloved authors right in their own communities.  Teens are attending field trips to book festivals and getting free books in their teen book clubs.  Libraries are posting Storywalks(R) in their community parks that are engaging young people to read with their peers and with their families.  Teens are being employed by libraries to keep their youth collections relevant and their environment engaging and user friendly.  Transportation is a constant struggle in our rural communities and this grant cycle has funded transport to after school book clubs to allow basic access to programming that would otherwise not be possible for many rural youth.  School superintendents have recognized the benefits of this programming to youth and have expanded their own subsidies for transportation to libraries.  In addition to collaborations with school librarians and teachers, this kind of mutual support has created collaborations where previously there had been none.  Much of this could not be done without the commitment of the Finger Lakes Library System and the resources it provides to all of its member libraries which are eligible for this grant cycle.    We look forward to continuing to work with libraries through this grant cycle as an enduring funding source, serving youth through creative and engaging programming which fosters a love of reading and learning."
Photos are featured on the Finger Lakes Library System's Facebook Page.
For more information on this grant cycle, please visit: www.cftompkins.org/granting/grant-opportunities/
2016 Awards and Projects
| | | | | |
| --- | --- | --- | --- | --- |
| Library Name(s) | Project Title | Total Rosen Funding | Total Nash Funding |  Brief Summary of Grant |
| Groton Public Library ($2,595) collaboration with Southworth Library Association ($2,595), Powers Library ($2595), Cortland Free Library ($2595). | Up Front – In Person | $10,382 | | The purpose of this grant is to propel our young readers into the world of books and to make reading exciting and fun while encouraging family participation. Connecting our young readers to authors they can enjoy, to put books into their hands and to give them a glimpse into the writing process. |
| Aurora Free Library ($7,950) collaboration with Hazard ($800) | Storytime Train – All Aboard for Reading, Talking, Singing, Playing and Writing: Year 4 | $8,750 | | Storytime Train will continue enhancing early literacy in the Southern Cayuga Central School area by continuing the weekly storytime, outreach programs at both the school and food pantry and purchasing some bilingual books to be placed in outreach sites in the community and at the library. We will partner with Hazard Library in distributing " Love Those Letters" book and DVD sets to UPK and Headstart and beginning a "1000 Books Before Kindergarten" program. |
| Hazard Library Association ($8,000) collaboration with Aurora Free Library ($7,000). | When Our Youth Read, We Are All Winners: Join the Reading Team. | $15,000 | | When Our Youth Read, We Are All Winners: Join the Reading Team builds on the learning of summer 2015 and continues to provide staff to publicize and promote summer reading, programming, coordinate outreach locations with programs and little free libraries and institute a new "Parents as Partners"  and community teams component to our program. We will continue to work with and expand our local partnerships with schools, businesses and the media. |
| Lodi Whittier Library ($895) collaboration with Interlaken Public Library  ($1,875) | On Your Mark, Get Set… Read! Youth Summer Reading Program | $2,770 | | Lodi Whittier Library and the Interlaken Public Library seek to continue our joint summer reading program for children and youth in our communities. The two libraries will be sharing resources and expenses to optimize our ability to provide a stimulating, educational and rewarding experience to help bridge the gap in the school year by exposure to reading materials. |
| Ulysses Philomathic Library ($1,755) collaboration with Edith B. Ford ($245) | Community Read: George | | $2,000 | The Ulysses Philomathic Library and the Charles O. Dickerson Middle School in Trumansburg, and the Edith B. Ford Memorial Library in Ovid, are planning a community read for the summer of 2016.  Each library will receive multiple formats of the title, George by Alex Gino, and 155 copies will be distributed for a book discussion at each participating library. |
| Coburn Free Library | Toddler Storytime Extension | $450 | | We would like to buy educational toys for the toddlers attending our story hour to use following the story portion of our program, as well as a plastic storage tote and a small bookcase to hold the toys when not in use. And finally, we would like to buy 24 board books as gifts for the children attending our story hour program. |
| Berkshire Free Library | Story Time | $2,070 | | Research shows that there is no better time to begin introducing the literacy process than the first three years of children's life.  Early literacy and language learning occurs through physical, social, emotional and linguistic domains. |
| Southworth Library Association | Family Storytimes and Events at the Library | $4,500 | | This program is for monthly multi-generational storytime event at the library for the entire family.  It accommodates those with older children who attend school during the week as well as preschoolers and those who cannot attend regular storytime events during the week because of other commitments or responsibilities. |
| Southworth Library Association | 2016 Summer Kid's Club at the Library | $1,600 | | This program is to provide a weekly book-based activity club at the library for school age children, during the summer when school is out of session.  Each week a different theme will be explored with activities, presentations and  a related book to take home to read. |
| Cortland Free Library | Ready, Set, Read! | $1,969 | | "Ready, Set, Read!" is a program aimed at beginning and early readers and their parents.  Besides providing a fun environment that focuses on literacy, the program encourages parents to learn activities to use with their young readers at home. |
| Cortland Free Library | Read It! See It! | $2,047 | | The Cortland Free Library will host a book club for teens. Teens will read a chosen book then attend a viewing of the film adaptation at the library. |
| Seymour Public Library District | Summer Reading Program 2016: On Your Mark, Get Set, READ | $9,452 | | Seymour Library will continue to provide an engaging, rich learning environment to encourage a lifelong love of reading through the Summer Reading Program.  Seymour Library will continue its outreach within the community by offering various programs both in the library and at other venues within the community. |
| Newfield Public Library | Summer Reading Program | $4,170 | | The summer reading program provides an opportunity for children and families to visit the library weekly for engaging and enriching activities that will create a lasting positive attitude toward reading and the library. |
| Seneca Falls Library | May the Force of the Library be With You | $4,188 | | To inspire, reach, and serve children and young adults by creating  a lifelong love of reading and learning utilizing programs that will ignite their curiosity and give them a strong foundation for their future. |
| Seneca Falls Library | Amazing Race to Literacy: Summer Reading | $6,186 | | To encourage literacy and lifelong learning in the youth of Seneca Falls by providing a safe, educational, and enjoyable summer reading program that keeps the children engaged through the use  of programs they would otherwise not be exposed to. |
| Waterloo Library & Historical Society | Summer Reading Success 2016 | $1,000 | | The funding requested will pay for two proven successful summer reading programs the 2016 Merry Go Round Theatre Performance and a Magician. Also, we are requesting a small amount to pay for 2 extra hours a week for a staff member to help in preparation and assistance with supplies and incentives for teens. |
| Lansing Community Library | On Your Mark, Get Set, Read @ the Lansing Library | $9,000 | | Funding is being requested support an expanded Summer Reading program for the children and families of the greater Lansing community. Our library is not able to meet the summer demands of the ever-growing community at our current level of financial support. The success of our program last year indicates the level of community support for this program. |
| Lansing Community Library | Kids, S.T.E.M, and Fun at the Lansing Library! | $2,615 | | S.T.E.M. stands for Science, Technology, Engineering and Mathematics. But STEM programming is more than just helping kids discover new facts about the world around them. It is about promoting a deeper understanding of concepts and scientific practices. |
| Edith B. Ford Memorial Library | LIFT: LIbraries For Teens | $13,376 | | LIFT is an afterschool book and activity club for middle school students that facilitates access to the library to create a lifelong love of learning. |
| Edith B. Ford Memorial Library | Shakespeare Improv Camp | $1,880 | | Playwright Camilla Schade will use her experience as a Teaching Theater Artist to work with 20 youth for one week in August, 2016.   The Shakespeare based camp will engage youth in theater games that teach character development, stage direction, and improvisational tricks, culminating in a public semi-improvisational Macbeth performance event! |
| Phillips Free Library | Youth Book Clubs at Phillips Free Library | $5,300 | | The purpose of this project is to run youth book clubs at the library and two Homer schools for 2nd graders through teens. These clubs will run over the summer and through the school year. |
| Ulysses Philomathic Library | Robotics, Research & Read | $2,000 | | The library plans to collaborate with a small community of volunteers who participate in a FIRST (For Innovation and Recognition in Science and Technology) Lego League to offer classes to middle grade students in Robotics programming. We have supported these volunteer coaches and students with meeting space and are now excited to engage them in their research and reading efforts as they explore this technology. |
| Waverly Free Library | LiFT Program | | $4,000 | This is an opportunity to partner with the school district and nearby universities in order for students to discover that the library is a place to gain and maintain a desire to read and learn beyond their school. The purpose is also to help students focus on how to create and innovate based on the science-related topics they will be studying. |
| Tappan-Spaulding Memorial Library | On Your Mark Get Set Read! 2016 | $910 | | We are providing six-week summer reading program, with a new activity each week.  Each activity will help encourage, and inspire children to become lifelong readers. |
| Groton Public Library | GPL Teen Thing | $10,700 | | The purpose of the Groton Public Library's Teen Thing program is to reach out and connect with our young teen population, targeting 6th, 7th, and 8th graders by engaging them in programs that they help select. Once engaged – through the use of interactive programs on a wide range of topics as well as featuring local presenters and community leaders with a free book each week – the teenagers will form a life-long love of libraries, books, and learning. |
| Tompkins County Public Library Foundation | Flex Your Curiosity at TCPL | | $10,000 | Through the "Flex Your Curiosity at TCPL" project, we propose to create circulating Storytime-To-Go Kits, including hands-on activities, for families, schools and childcare centers for use in conducting their own storytimes, and to create and launch two Curiosity Carts for children, teens and their families to engage in self-directed exploration, learning and creative pursuits. |
See also the Community Foundation of Tompkins County's Announcement.