Three Apples Kid Choice Book Awards Winners Announced
The New York Library Association (NYLA) has announced the Three Apples Book Award winners for 2017.
The nominated titles are generated by kids, for kids in three separate categories:
Young Reader (UPK – 2nd grade)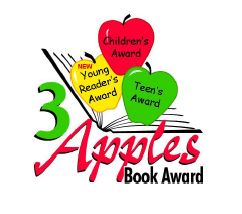 Children (grades 3-6)
Teen (grades 7-12)
This year, voting on the top fifteen titles in each category took place in school and public libraries across New York State from April 1-30, 2017. Over 75 school and public libraries participated, with over 6000 votes cast during the month by New York State youth.
The 2017 3 Apples Book Award Winners are as follows:
Young Reader Category:
The Book With No Pictures by B.J. Novak
New York: Dial Books for Young Readers, 2015
Children's Category:
The Lightning Thief by Rick Riordan
New York: Miramax Books/Hyperion, 2005
Teen Category:
The Fault in our Stars by John Green
New York: Dutton Books, 2012
The 3 Apples Book Award Joint Committee is comprised of members from NYLA's two youth divisions: the Section of School Librarians (SSL) and the Youth Services Section (YSS).
Visit nyla.org/3apples for more information about the award.