Reference
Ask Us 24/7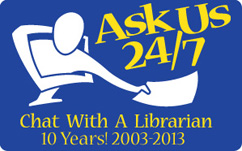 FLLS is now providing this virtual chat services that connects people with reference librarians, 24 hours a day, seven days a week.  Access to the service is available at www.askus247.org.
AskUs Participants from the Finger Lakes Library System include:
Alison McCarthy: Seymour Library, Auburn
Amanda Schiavulli: FLLS
Annabeth Hayes: formerly of the Groton Public Library
Annette Birdsall: Ulysses Philomathic Library, Trumansburg
Debby Wells-Clinton: Lansing Community Library, Lansing
Linda Beins, FLLS
Subs: Mary Lovell & Lisa Carr, Seymour Public Library
While you may not be chatting with one of these librarians, you will be chatting with a reference librarian.  The librarian who answers your inquiry will be able to help you with questions about your library and will help you find answers to other questions you may have by using a range of Internet sources and specialized databases.  If you need assistance specifically from your home library, your question will be referred and a librarian from your home library will get back to you via email.
Ask Us 24/7 is a project managed by the Western New York Library Resources Council in Buffalo, NY.  Ask Us 24/7 also receives support from the South Central Regional Library Council in Ithaca, NY and the Central New York Library Resources Council in Syracuse, NY.  Ask Us 24/7 utilizes QuestionPoint (OCLC) software.
Ask Us Flyer  

.38mb
Ask Us Brochure 

Databases
Brochures
Flyer
Resources
Black History Month Brochure 2011 .27mb
Job Search Websites .02mb
Women's History Month 2010 .45mb