Reference
Ask Us 24/7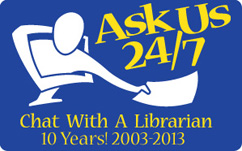 FLLS is now providing this virtual chat services that connects people with reference librarians, 24 hours a day, seven days a week.  Access to the service is available at www.askus247.org.
While you may not be chatting with one of these librarians, you will be chatting with a reference librarian.  The librarian who answers your inquiry will be able to help you with questions about your library and will help you find answers to other questions you may have by using a range of Internet sources and specialized databases.  If you need assistance specifically from your home library, your question will be referred and a librarian from your home library will get back to you via email.
Ask Us 24/7 is a project managed by the Western New York Library Resources Council in Buffalo, NY.  Ask Us 24/7 also receives support from the South Central Regional Library Council in Ithaca, NY and the Central New York Library Resources Council in Syracuse, NY.  Ask Us 24/7 utilizes QuestionPoint (OCLC) software.
Ask Us Flyer  

.38mb
Ask Us Brochure 

Databases
New York State Historic Newspapers!
The NYS Historic Newspapers project provides free online access to a wide range of newspapers chosen to reflect New York's unique history.
Click here to view the NYSHN's newsletter, including contributor of the month, new titles, and the announcement of the winner of the Empire State Writing Competition.
http://nyshistoricnewspapers.org/
Database Training – Webinars:
EBSCO Training
GALE training
ProQuest (HeritageQuest & eLibrary
Mango
Grolier
Grolier Online Video Tutorials for America the Beautiful, Animals of the World, Lands and Peoples, La Nueva Enciclopedia Cumbre, and New Book of Popular Science. http://teacher.scholastic.com/products/grolier/tutorials.htm
 Build Your Skills: An archive of some of our NoveList's most popular webcasts and videos. Topics available include Reading Advisory makeover, Creating Engaging Book Displays, Readers Advisory for Kids, and beyond Books Displays. Link to Archive
Brochures
Flyer