Library Mii on Nintendo StreetPass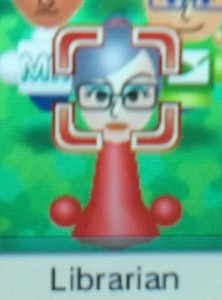 Do you carry around your Nintendo 3DS or 2DS? Have you StreetPassed a FLLS Library Mii?
Awesome!!
Please use the comment field below to generate some great StreetPass Discussion!
Some ideas to get you thinking:
Where would you like to see a StreetPass event?
What StreetPass games do you play the most?
How many outfits/costumes do you have for your Mii?
What puzzle pieces do you need?
Visit our FLLS Nintendo StreetPass Landing Zone for all your StreetPass needs.
Have no idea what a StreetPass is? Check out these StreetPass Resources:
Remember, Amanda has the 3DS and 2DS Bundle to reserve so you can familiarize yourself with these interactive programming devices! Please email her at aschiavulli@flls.org with any questions!
Nintendo, Nintendo 3DS, Nintendo DS and StreetPass are copyright and/or registered trademarks of Nintendo Co., Ltd. and/or its affiliate divisions.