3D Printing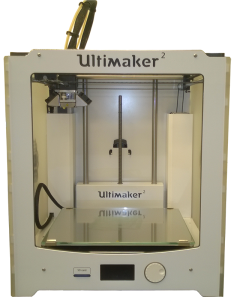 In 2015, with support of the Friends of Tompkins County Public Library, the Finger Lakes Library System purchased an Ultimaker2 3D printer by Dynamism. The printer was used for demonstrations and was available for member libraries to borrow in support of programs and makerspaced. The Ultimaker2 model is capable of printing both PLA and ABS plastic and came with the option to be upgraded by adding a second print head which would allow printing with two filaments simultaneously.
The 3D printer was given away at the 2016 Annual Meeting to the Groton Public Library where it is still available for loan to FLLS member libraries.
Home and small business printers can range in price from as low $400 to several thousand dollars. The Ultimaker2 is $2,500 and is an average price for a printer of its size and capabilities. Hobbyists have the option of less expensive models, such as the Printrbot Simple from Adafruit, which retails for $399 but comes in a kit form and requires assembly.
For those that want to create a 3D item but don't have access to a printer, there are online services, such as Shapeways, that will print your design for a fee.
Most hobby printers print with PLA plastic which is made from plant products, such as corn or sugar-beets, making it recyclable via commercial composting facilities. PLA has a low melting temperature and is rigid when cool but can be brittle. PLA also allows for fine detail.
ABS plastic, which is oil based, has a higher melting temperature but is more flexible.
High-end printers are available to print metal items or can be used with food-grade material to print custom candy or cake decorations.
3D printers have a wide range of uses in business. They can be used for rapid prototyping of tools and parts or collectibles. They're used by medical companies to create titanium implants or to create models based on MRI data to assist with operations. They can be used to recreate lost parts to a board game, computer, musical instrument or piece of office furniture.
3D Printing Resources
Software
Printers
3D Scanners
Consumables
Most of the hobby printers use PLA plastic. We recommend looking at the website for the printer manufacturer to see which spools of filament are recommended. Pricing can range from approximately $60 to $70 depending on the type of plastic used for the Ultimaker. The Ultimaker2 can hold spools of .75kg while printers such as the Makerbot Replicator use spools of .22kg, which also come in at a lower price ($48 from the Makerbot store).
Additional resources on Library Programming and Makerspaces.