Port Byron Library
12 Sponable Drive
Port Byron, NY 13140
Phone: 315-776-5694
FAX: 315-775-5693
NEW! Expanded Library Hours
Monday            3 p.m. to 8 p.m.
Tuesday  10:00 a.m. to 6:00 p.m.
Wednesday   3 p.m. to 8:00 p.m.
Thursday   10:00 am to 6:00 p.m.
Friday           3 p.m. to  8:00 p.m.
Saturday   10:00 a.m. to 2:00 p.m.
Sunday –     CLOSED
NOTICE! Whenever the public schools are closed for snow the Library will also be closed.
Library Board Meetings
Are always open to the public.  Please come & join us!
Are held at the library on third Thursdays at  6:00 p.m.
Your input is important – tell us what you think!
It's your library!
LIBRARY WISH LIST:
If you have books on local history – especially out of print books or school yearbooks, the Port Byron Library staff would like to talk to you about donating them for our History Room.
Memorial or honor books can be purchased for you, too.  Please call about suggestions for titles or topics to avoid duplication.  We will create a bookplate especially for your memorial or honor book.  Please come in to discuss the possibilities.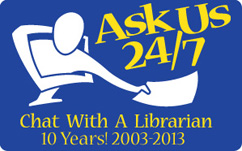 Ask Us 24/7
New Service! Get live answers to your reference questions 24 hours a day, 7 days a week.  http://www.questionpoint.org/crs/servlet/org.oclc.admin.BuildForm?&page=frame&institution=13238&type=2&language=1
Zinio
Introducing Zinio
Read complete digital editions of popular magazines
Enjoy interactive elements such as audio and video
Experience anytime, anywhere availability on PCs, Macs and mobile devices
Keep magazines for as long as you like
Download magazines to your mobile device for offline reading
Friends of the Port Byron Library
Meetings will be bi-monthly
Just before the board meeting @ 5:00
No obligation to attend every meeting
Join us and bring your ideas to enhance library usage!
 Preschool Story Time:
has resumed on Friday mornings at 10:30
---
Staff
Library Director: Evalyn Taylor
Assistant Director: Anna Chappell
Summer Reading: Cathy Applebee
Pre-School Story Time – Anna Chappell
CONTACT US:  email your library @ portbyro@twcny.rr.com
A member of the Finger Lakes Library System