Recommended Computer Cleaning Supplies
Here are some recommendations for cleaning supplies to use with your computer equipment.
Keyboard, Mouse, Computer Case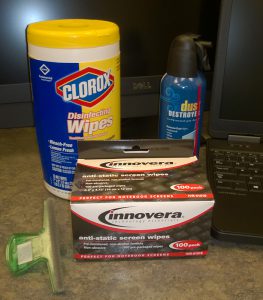 Any type of duster or cleaning wipe such as Clorox Disinfecting Wipes can be used to clean keyboards, mouse, headphone ear pads (vinyl or plastic coverings) , desks, and computer desktops or towers. You can also use them to clean off the outside of a flat screen monitor or laptop. They are not recommended for use on the screens of laptops or flat screen monitors, including All-in-One computers.
You can also use a regular dust cloth or a Swiffer type cloth that uses static to remove dust.
Canned air can be used to blow dirt and debris from keyboards and laptops as well as blow dust from USB and other ports on computers. Included in the photo is a small squeegee with a soft felt edge that can be used to brush dust from monitors. Then use the canned air to blow the dust from the corners.
Monitor Cleaning Supplies
Dusting using a dry cloth or squeegee as mentioned above works on most light dust. If you have fingerprints, dirt, or splashes on a flatscreen or laptop monitor then a moistened, non-alcoholic wipe is recommended. Be sure that the wipe doesn't contain alcohol or ammonia (Windex and similar products) and is listed as safe for notebook/laptop screens.
Pictured is a box of screen wipes from innovera. They're individually packed and come in a 100 pack for $15.99 from Staples. Other brands are available but we would recommend individually packed wipes as they have a tendency to dry out quickly when packed in multi-pack containers similar to the Clorox package pictured.
Touchscreen Tablets and Phones
A dry cloth, eyeglass cleaner, or monitor wipe can be used on tablets, phones, and touchscreen monitors. Check with the device manufacturer to see if specific care instructions are provided. Generally, alcohol and ammonia based cleaners are not recommended for touchscreens.
Special cleaning instructions may also be in place for specific screen protectors you may have on your phone or mobile device.