Adding Meeting Minutes to a WordPress Site
We've had a few questions on how to add board meeting minutes to your websites. There are two main ways you can do this, either as an uploaded document (PDF, Word, etc.) or as a new Page on your site. Both options have their pros and cons.
Pages
The pros for creating individual Pages for all of your meeting minutes is that they're indexed by WordPress so patrons searching your website will also find things from the minutes. You're also keeping patrons on your website while they're viewing the minutes, if you need to update anything you can update the Page vs re-uploading a document, you can link into and out of the minutes, and the minutes are automatically branded to your site by being a Page. If, for any reason, minutes need to be hidden behind a login, a Page can be protected but a document will be accessible to anyone with the link to it.
Cons for using Pages is that if you created your minutes in Word or another app, you'll need to cut/paste the content to the website and may need to fix formatting. Special fonts you can use in a desktop program may not be available in WordPress, charts or images need to be uploaded separately and added to the Page, and if you use special formatting or layouts for your minutes it may be harder to recreate in a Page vs an uploaded document.
Documents
Pros for uploading documents as a PDF or Word document are that you're more likely to have created the minutes in a program like Word, Notepad, Google Docs or another word processor and saving as a PDF or native application document format saves you steps. Special layouts, fonts, graphs, charts, and images will be included, and the layout is already set for anyone that wants to print the minutes.
Cons for documents is that without additional plugins or software, the contents of the minutes are not indexed by WordPress and therefore not searchable. If you upload a document you need to link to it from somewhere on your site (likely a Page) but if you need to make changes you need to upload a new version of the file, update all the links to it, and remove the previous version. PDF documents are portable in that many different operating systems and devices can read them but if you upload in a native file format for Word, Publisher, Excel or another editing software, the reader may not have a compatible software application to view them. While we have no file size or storage restrictions on our hosted sites, PDF and other documents can have large file sizes which the viewer needs to download on their internet connection (or data plan if viewing on a phone).
Adding Meeting Minutes as a Page
If you decide to add meeting minutes as a Page, we recommend creating a landing page for all of your minutes (e.g. https://www.flls.org/falcons-minutes/). This Page can be set up in a number of ways to list your meeting minutes, from a simple list by year/month or broken up into sections with images or other info to add context. You can also post Zoom links to the Page for remote attendance, post your board schedule, and other information as needed.
Once you create that Page you can link it to your site's main menu, from your About, Board, or other Page on your site where patrons can easily find it.
Each month, when you're ready to post your meeting minutes, you can create a new Page. We'd suggest picking a naming convention for each new page for consistency (e.g. Southworth Board Meeting Minutes – October 21, 2022).
If you've created your meeting minutes in Word, for example, you can cut and paste from Word directly into the new Page you've created. You may need to adjust bullet or numbered lists or highlight your headings after pasting them in. Most things, such as bold, italicized, or underlined text, and website links will copy correctly but it's worth spending time to make sure the format looks correct.
If you've decided to create your meeting minutes directly on the new Page, you can format the minutes as you go and save the Page as a Draft until you've finished your meeting and had time to proofread or upload images or charts. Once you publish the minutes, update your Meeting Minutes landing page with the link to the new minutes.
Adding Meeting Minutes as a Document
If you've decided to upload your minutes as a document, we still recommend creating a landing page where you can collect all the links to your meeting minutes. This Page will also be what you'd link to your menu or to your About or Board page.
For this example we're going to assume you're saving your final document as a PDF file.
Log into your website and on the Dashboard, under Media, select Add New. You'll be taken to a page where you can either click the "Select Files" button to locate your PDF file or just drag and drop your PDF file from your computer.
Once the file has uploaded, you'll see it listed below the file selection box.
Click the button to the right of the file name to "Copy URL to clipboard."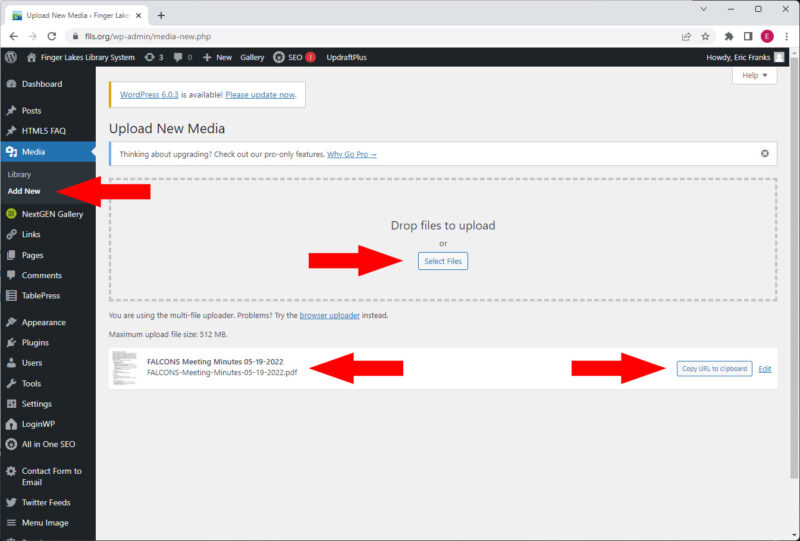 You can now open the Meeting Minutes landing page. If you haven't already added a callout for the new meeting minutes, add it to your layout.
Select the text that you want to turn into a link to the PDF file. That will activate the formatting menu if you're using the new WordPress Block editor. Click on the Link button and paste your copied URL into the box.
If you're using the classic editor, after highlighting the text on the page, locate the Link button on the editor menu above your post. Click it and then paste the URL into the box.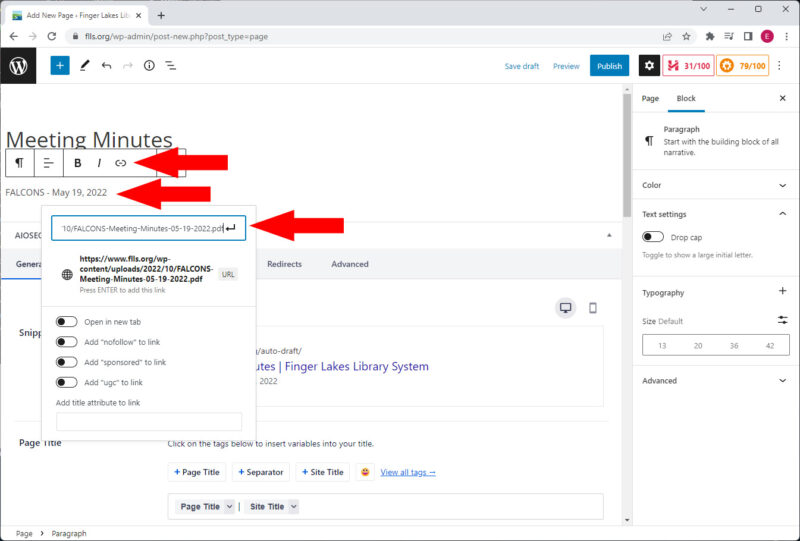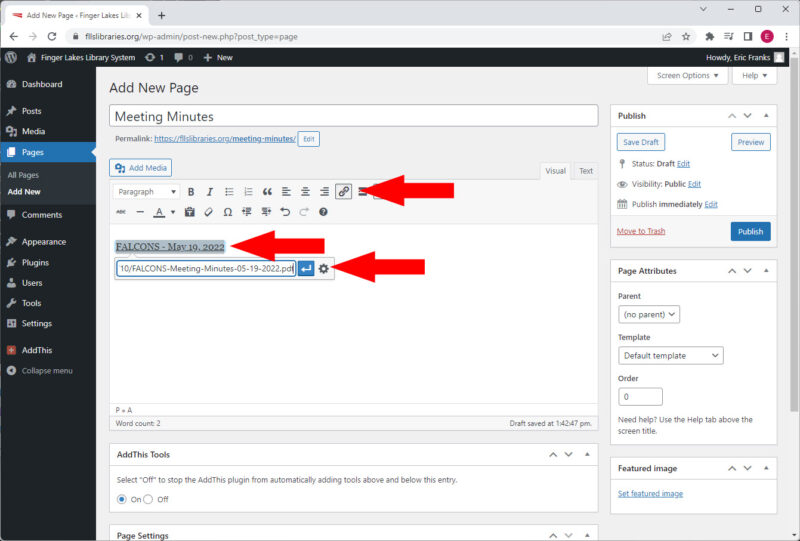 With both editors, after you paste the URL, you can press the Enter key or click the return arrow icon to commit the link to the Page.
Best Practices
When you create a landing page for your meeting minutes, keep in mind the title for the page. If the page is for board meetings, calling the Page "Finger Lakes Library System Board Meeting Minutes" is nice and descriptive, but the link to the page would be "www.flls.org/Finger-Lakes-Library-System-Board-Meeting-Minutes." A shorter name, such as "Board Minutes" or "Meeting Minutes" works out better for link sharing in emails or even word of mouth as they'd shorten to domain.org/Board-Minutes or domain.org/Meeting-Minutes.
If you keep multiple types of minutes on your site, for example FLLS keeps board and FALCONS minutes, having two landing pages with short but descriptive titles keeps them separate but easily sharable and identifiable.
Another thing to keep in mind, especially when uploading documents, is to add descriptive information in the Media Library. Pictures and documents stored in the Media Library allow you to add Alternative Text, Caption, and Description information.
Alternative Text
Alternative Text is important for images that will display on a Page or Post as it helps screen readers interpret what is being displayed. Alternative Text is also displayed in place of an image if image display is turned off in a patron's web browser.
Captions
Captions are displayed under an image on a page and aren't as necessary as the Alternative Text or Description. We've used Captions above to differentiate the two editor screenshots.
Description
The Description is where you should describe what the document or image is so that you can find it in your Media Library. For example, any of the stock images FLLS uses for the slider on the homepage have a Description that includes the word "stock" along with a description of the image and any additional info that will help find it for use in the future. Meeting minutes uploaded as a PDF (for example) should have the date of the minutes, that they're board or other meeting minutes, and possibly a description of a few of the important topics covered in that meeting. Since WordPress can't search what's in a PDF, finding it in your Media Library will rely on what you include in the Description.
Additional Information
There are additional ways that you can add your minutes to your website but these two examples are the most direct without requiring additional plugins for WordPress.
By adding plugins you can create other ways to display PDF files on your site. For example, you could show the PDF directly on your site (PDF Embedder) or lay out a meeting minutes page to look like an FAQ (Easy Accordion) that would expand to show the PDF files all on one page.
WordPress is very flexible and always adding additional features both natively and through plugins. If you have other ideas about how to present your meeting minutes it's likely that you can find it by doing some research. Two places to start are the WordPress plugin site (https://wordpress.org/plugins/) and WPBeginner (https://www.wpbeginner.com/).