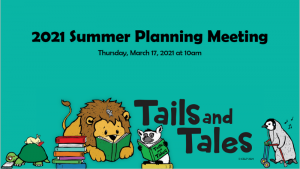 | Links from meeting | Meeting info | Programs | Statistics | Tracking Reading |
Tails and Tales: Summer 2021
The 2021 Summer Planning Meeting was held virtually on March 17, 2021.
It's been a difficult year. Please remember to take care of yourself.
Resource links from the meeting
StoryWalk resources

FLLS also has StoryWalk stories that can be borrowed. In Polaris, do an Item search by Call Number for "Storywalk" to see what titles are available.

CSLP manual (if you need the online access code, contact FLLS)
Facebook groups
Statistics
You will need to keep track of summer reading statistics so that they can be submitted to the State Library, twice. Once for statewide collection of summer reading numbers and once on the annual report.
Key takeaway: Keep track of what you are doing, but don't stress about it.
The State typically asks for:
Number of registrations
Minutes/pages/activities completed
Number of programs
Program attendance
Collaborations
Here is a draft of the 2021 Summer Survey, which will be due in September: Draft 2021 Summer Survey 

Tracking Reading
The NYS Library makes the online registration and book/time logging software READsquared and its app available for free. To create a READsquare site for your library, you will need to contact the company. It usually takes a couple of days for the company to set up your site. If you have had a READsquared site in the past, you do not need to create a new one. You just need to update your site for this year. Check out the NYS Library's summer reading website for more information and archived webinars about READsquared.
Other ideas for tracking reading include:
paper – log or record, bookmark, punch card (see meeting slides for examples)
read & bead, lanyard & pin (see meeting slides for more info)
Programs
Adult program ideas from Jenny – these can be adapted for children and teens and can be done virtually

Adoption Fair: Partner with a local shelter or SPCA to hold an in-person adoption fair at the library or a virtual tour.
Animal Origami Crafts or Book Folding: See manual for ideas.
Audubon Society/Bird Watching: See manual for ideas.
Author Talks
Bird Feeder or Bird House Crafts
Dungeons & Dragons Tournament
Paint & Sip or Paint Your Pet
Paranormal or Spooky Tales: Invite a local historical society.
Pet Photo Contest: See manual for ideas.
Pet Toy Crafts: Snuffle mats, catnip toys, rope toys, cat shelters. Create for a personal pet or donate to a local rescue/shelter. See manual for ideas.
Re-Tail: Promote local businesses or host a career fair.
Storytelling Series or Tell Us Your Tale: Memoir writing workshop. Story-writing contest. Contact a local university, college, or writing group.
Tail-pipes: Host a car show at the library.
Tail-spin Crafts: Stress-relief crafts.
Tales & Cocktails/Mocktails: Share drink recipes and stories.
Tales & Trails: Hiking book club, self-guided hikes, or photo contest. Have an experienced hiker offer tips and tricks.
Tall Tales: Creative writing workshop. Contact a local university, college, or writing group.
Therapy Dogs or Reading Buddies
Vet Tales/Tails: Ask a local vet to share tips and tricks for new pet parents.

Check out the meeting slides for more program ideas, including ones that your colleagues have done! Slides with notes from the meeting
Check out some of last year's program ideas, since animal stories and fairy tales crossover from last year's theme (Imagine Your Story) to this year's theme (Tails and Tales)! FLLS Imagine Your Story 2020
Places for ideas

The Cardigan Newsletter is a quarterly e-newsletter/blog for children's librarians, written by Allie Barton and Katherine Hickey, two youth services librarians from Oklahoma. Each issue has sections titled: Learn, Play, Plan, Consider, Connect, Read, Reflect, and Share.  Subscribe or view the blog or view past issues
PUBYAC Listserv is a discussion list concerned with the practical aspects of Children and Young Adult Services in Public Libraries, focusing on programming ideas, outreach and literacy programs for children and caregivers, censorship and policy issues, collection development, administrative considerations, puppetry, job openings, professional development and other pertinent services and issues. learn more and subscribe
Facebook groups (you will need to join them to see posts)
Craft ideas: Dollar Tree and Dollar General