Legislators Celebrate Libraries at FLLS Annual Meeting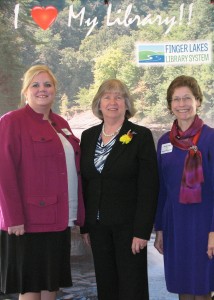 The Finger Lakes Library System celebrated our annual meeting on October 25th with speakers and events emphasizing the essential role that libraries play as the heart of their communities.
New York State Senator Tom O'Mara, Senator James L. Seward, Assemblywoman Barbara Lifton, Assemblyman Philip Palmesano, Assemblyman Chris Friend, and Tia Zink, Director of Tom Libous's BOOKS Program were all in attendance to speak with their constituents about their strong continued support of libraries.
Veteran political campaign consultant Libby Post presented a keynote address aimed at helping libraries to win local funding support. Sustainable funding is perhaps the most pressing issue that our libraries face today, particularly given the dramatic cuts to state funding in recent years. Executive Director Amy Zuch likewise spoke passionately about the connections between libraries and the health of a community. Both speakers emphasized the great value that libraries bring, particularly in rural areas. In addition to offering key services for jobseekers, such as free wireless internet, they are one of the few sources for free educational events for all ages that families can enjoy together.
Senator O'Mara, Assemblyman Friend and Assemblyman Palmesano also honored FLLS's annual award winners with official Proclamations for their exemplary achievements. Winners included Director of the Year Sara Knobel, Groton Public Library, Joan Cooke Youth Services Award winner Betsy Davison, Cortland Free Library, Ruth Polson Distinguished Service Award winner Karel Titus, Lodi Whittier Library, and Outreach Award winner Priscilla Berggren-Thomas, Phillips Free Library.
Other business included the election of four new members to the FLLS Board of Trustees: Georgianna Horvath of Broome-Tioga Literacy Volunteers, Barbara  (McKeith) Melvin, a former director and longtime trustee at Ulysses Philomathic Library, Trumansburg, Gregg Kiehl, TC3 Library Director, and Patricia Schaffer, Staff Development Specialist, Cayuga Medical Center & Adjunct Clinical Instructor, TC3.
Many thanks to all who attended! Event photos can be viewed at www.facebook.com/fingerlakeslibrarysystem.
Main photo: Senator James L. Seward and local library trustees congratulate Director of the Year Sara Knobel, Groton Public Library.