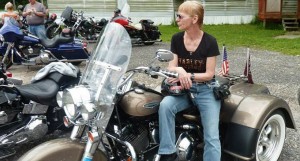 Jan Aguirre passed away on July 12 while doing what she loved, riding her motorcycle with friends.  Jan worked for the Finger Lakes Library System for the past 26 years and whether she was out doing training or just answering the phone, she was always here to help.
Jan was always the first to volunteer to plan a party, and hers were always the best.  She wore her crazy costumes at Halloween, loved to pull a practical joke, brightened up the office with her flowers and photography and always had a smile on her face.
We're going to miss Jan every day.  She was our friend, our family and we loved her very much.